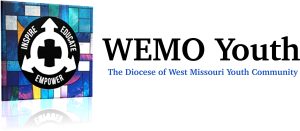 WEMO Youth Community Covenant
The WEMO Community Covenant is based on Romans 12:10, with an emphasis on respect. We take it very seriously as it is our standard for behavior and our guide to handling any situations that might arise.
"Love one another with brotherly affection. Outdo one another in showing honor."-Romans 12:10
Participating in Youth Ministry events and activities is a privilege. Participants and adult volunteers are encouraged to enter fully and cooperatively into community life. A WEMO Community Covenant was created with Romans 12:10 in mind and focuses on respect. Standards 1-7 are ideals toward which we strive. Standards 8-12 are non-negotiable and will be enforced on a zero-tolerance basis; if these standards are violated, the violator will be sent home at the expense of the parent/guardian.
1. Respect the other participants and their property
2. Respect whoever is speaking.
3. Respect the adult leaders.
4. Respect the event staff.
5. Respect the people encountered at the event.
6. Respect myself.
7. Agree to remain with the group during activities-An absolute!
8. I agree not to commit acts of theft or violence.
9. I agree not to be involved in bullying- WEMO events should be a safe space!
10. I agree not to use or possess any tobacco, alcohol, marijuana or illegal drugs.
11. I agree not to bring or use fireworks, firearms, or any other kind of weapons while at this event.
12. I accept that sexual behavior is not tolerated, this includes public displays of affection (i.e. holding hands, excessive hugging, kissing, sitting on laps- and anything else that is seen as crossing a line of sexually inappropriate behavior.)